We've officially received your registration for
Online Masterclass Series!
Want instant copy support in your AirPods for your next sales page, lead magnet, or Instagram post?
And provide advocacy and services for LGBTQ+ elders?
Then you should know about The Copy Chat Kit!
Listen to every speaker (as many times as you want!)
Instant spark of creation, idea, or tool for your next post, email, or sales page.
Every single penny (yes, they still make 'em)
goes to Sage...

...providing funds to support LGBTQ+ pioneers across the country who've been fighting for decades for their right to live with dignity and respect.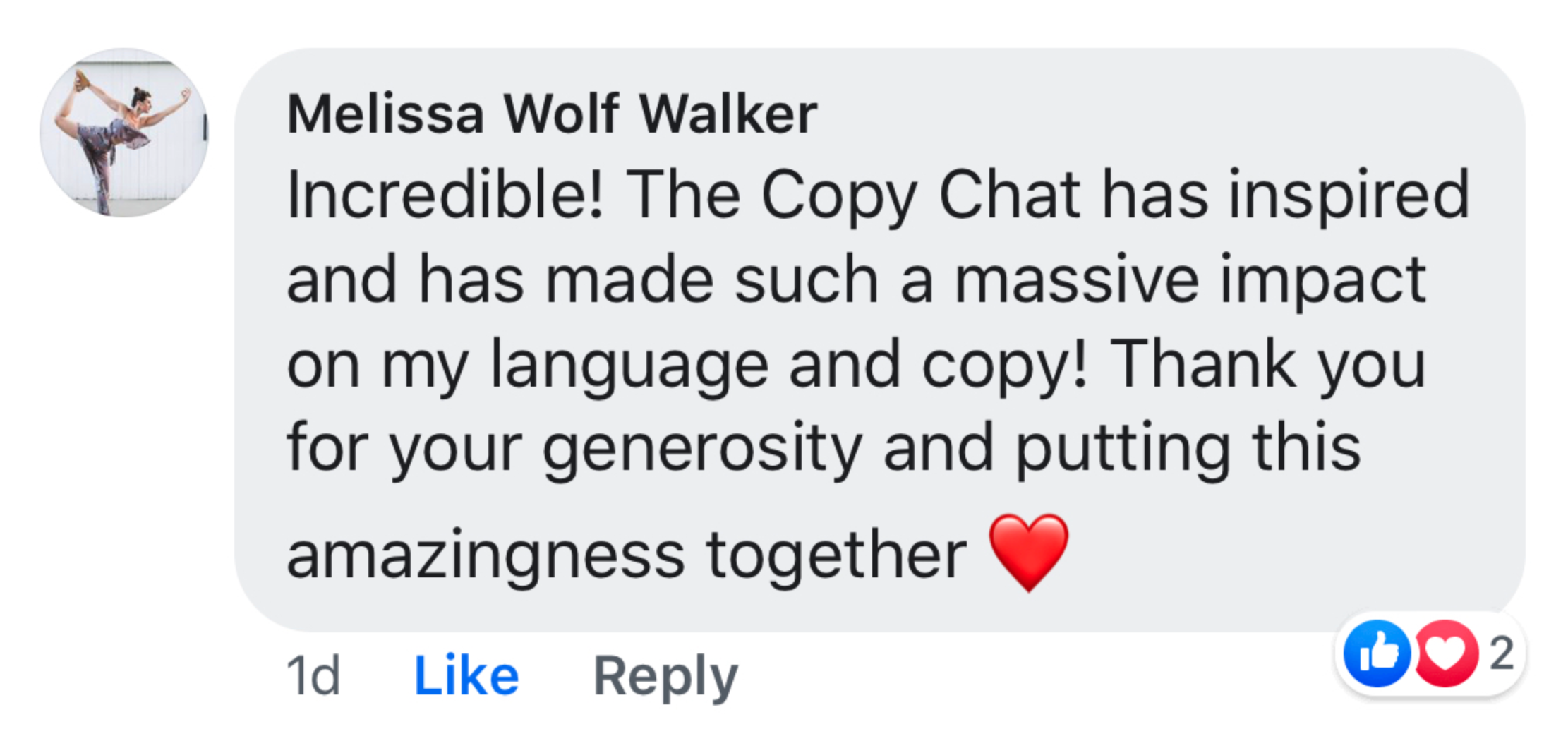 Why help your copy and a human?
Honestly, as much as I want you to be there

LIVE with me


for every interview, I know how life and business work.
I'm supposed to present you with a scarcity moment telling you that if you miss these interviews, then your chances for online fame and fortune are down the drain.
Listen, I want to help you.
When you uncover how to write copy that connects, it gives you the power to send an email or launch a sales page and watch the sales roll in.
There is a major possibility that one of these chats could help you do that...and more. 
Your Copy Chat Kit helps raise money for

Sage

 to provide advocacy & services to LGBTQ+ elders.
Why this is important:
Today, LGBTQ+ people in 28 states still lack legal protections against discrimination in housing, healthcare, and employment.
LGBTQ+ elders are twice as likely to be single and live alone.
Four times less likely to have children.
We enjoy the rights and protections we have today because our community pioneers refused to be invisible by raising their voices, taking to the streets, and demanding equality.
Don't just tell LGBTQ+ elders that you support them during Pride month – show them that you're still willing to raise your voice and fight. And that, as they age, they are never invisible or alone. 
How
Sage

Provides Advocacy & Services

to LGBTQ+ Elders:
Mobilize LGBTQ+ people and allies when their rights are at stake.
Educate policy makers about LGBT aging issues.
Release original policy briefs, publications, and infographics.
Lead coalitions that integrate diverse elders into policy conversations.
March and rally with LGBTQ+ older people and allies.
Let's help Sage and

stand proudly with the LGBTQ+ pioneers

who've been fighting for decades for their right to

live with dignity and respect.
Uncover what to say (and how to say it) to magnetically attract your dream clients while improving aging for LGBTQ+ elders.
Here's what The Copy Chat Kit includes:
Every single interview is yours to keep. Listen on your own time - in the car, on a walk, or making dinner - and go back to the ones you find the most helpful for YOU.
Bonus Class with Me, Marisa
Exclusively for upgrade participants. Create a doable action plan based on the strategies and advice that resonated most for you during this Masterclass Series and ask me ALL your copy questions!
The Email. Connect. Convert. Workbook
Wondering what the heck to write to your list to keep them engaging after that free gift? This workbook includes writing prompts, templates, and samples (directly from my clients!) to nurture your list and turn raving fans into clients.
How often do you write something in your phone or convince yourself, "I'll remember!" only to forget it and have it lost from your brain for eternity?
(My hand is RAISED!)
That's exactly why I wanted to include this opportunity.
This is all yours for just $127.
(Honestly, that's cheaper than a couple packs of bottles of hand sanitizer this year!)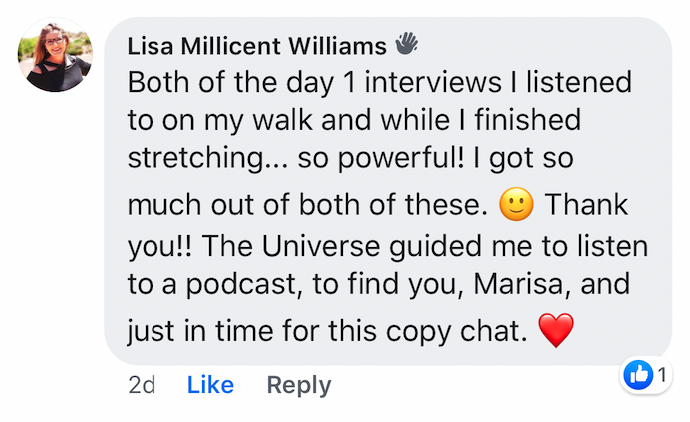 Know this:
Many of our experts charge $500 or more for an hour of their time.
You get exclusive access to the factual strategies that work for them and their clients.
The LIVE interviews are available free of charge for the first 48 hours after each call.
That's my promise to you.
But after that, the ONLY way you can get access to all the wisdom, inspiration, strategies and tools from all the speakers is to grab The Copy Chat Kit.
To make your emails ROI machines, blogs more readable, Facebook and Instagram posts engaging, and sales pages bring in cash.
Then these experts will show you what's possible. You'll get the tools, strategies and support you need to write copy that attracts clients, makes money, and creates a massive movement online.
Take it all with you AND help LGBTQ+ elders age with dignity and respect.
I'm jazzed to have you here…
...and can't wait for all the a-ha moments headed your way!
Copy that,
Upgrade to The Copy Chat Kit Now!